Jobs You Can Get with CompTIA Network+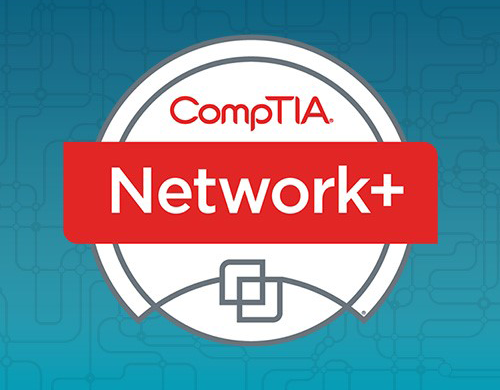 When IT professionals begin their IT career journey, CompTIA is often their first stop because our certifications are the starting point for those exploring the idea of a career in technology. After earning CompTIA A+, the industry standard for establishing a career in IT, the next step is our core networking certification, CompTIA Network+.
The new version of CompTIA Network+ (N10-008) focuses on foundational networking tools and technologies used to create secure networks and guarantee the availability of critical business information. If that sounds like an exciting career path for you, did you know there are specific jobs you can land once you have CompTIA Network+ under your belt?
Let's take a closer look at how IT professionals who have CompTIA Network+ are qualified for the following IT jobs:
Network administrator
Systems engineer
Network support specialist
Systems administrator
What Skills Does CompTIA Network+ Cover?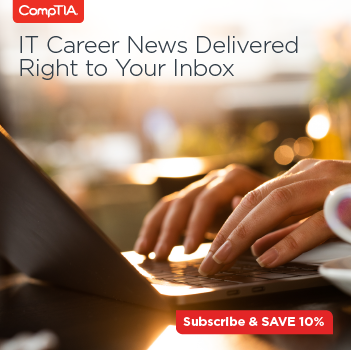 CompTIA Network+ provides the foundation you need to work on networks anywhere. CompTIA Network+ is the only certification that covers the specific skills that network engineers need. Other certifications are so broad, they don't cover the hands-on skills and precise knowledge needed in today's networking environments.
To be successful in any of the above-listed jobs, an individual should be able to do the following:
Implement enterprise-level wired and wireless network solutions
Identify and troubleshoot network performance issues
Harden networks against threats to mitigate security vulnerabilities
CompTIA Network+ covers these topics in depth to prepare you for a networking career. (Check out the exam objectives for yourself – download them for free!) Additionally, unlike other vendor-specific networking certifications, CompTIA Network+ prepares candidates to support networks on any platform. It provides the foundation you need to work on networks anywhere.
4 Jobs You Could Get with CompTIA Network+
The following job roles align directly to what you learn while studying for the CompTIA Network+ exam. If you're already CompTIA Network+ certified, read on to see if one of these jobs is of interest to you!
1. Junior Network Administrator
If you like to manage systems and solve connectivity issues, then network administration may be a good next step for you.
A junior network administrator supports the company's internal servers by:
Installing and maintaining the network and hardware systems
Diagnosing and repairing connectivity issues
Ensuring people can only access the files they have permission to
Monitoring the network to maintain speed and availability
Managing backup systems for the network
For example, CompTIA Network+ exam objective 2.4 is all about installing and configuring the appropriate wireless standards and technologies, while exam objective 5.2 covers troubleshooting common cable connectivity issues.
The demand for network administrators has been growing over the past several years, which makes it a great career path for those with CompTIA Network+. Network administrators also have a median annual wage of $83,510 (U.S. Bureau of Labor Statistics).

2. Junior Systems Engineer
If you like computer software and designing solutions for specific problems, a career as a systems engineer could be for you.
Some responsibilities of a junior systems engineer include:
Communicating with a team to understand specific requirements of the system regarding design, installation and usage for data, hardware and software components
Verifying stability, operability, portability, security and scalability of system architecture
Evaluating current and emerging technologies to consider implementation of upgrades for security portability, compatibility and usability
Monitoring systems to detect and prevent potential problems
Providing guidelines for implementation of secure systems through design and ensuring compatibility of system components
For example, CompTIA Network+ exam objective 1.7 covers network architecture, while exam domain 4.0 encompasses all things network security that systems engineers manage on a regular basis.
According to the U.S. Bureau of Labor Statistics (BLS) and the CompTIA salary calculator, the median annual wage for systems engineers is $90,920, which is a great role to get into as the BLS projects an increase of 5% to 9% for the job role from 2016 to 2026.
3. Network Support Specialist
If you like solving problems or building computers, a career as a network support specialist could be for you.
Network support specialists typically have the following responsibilities:
Backing up network data
Configuring security settings or access permissions to ensure the right people can get in and the wrong ones cannot
Analyzing and reporting security breaches or attempted breaches
Troubleshooting the network to identify connectivity issues and using diagnostic testing software and equipment
Configuring wide area network (WAN) or local area network (LAN) routers or related equipment
Installing network software, such as security or firewall software
Evaluating network performance data regarding things like speed, connectivity and disaster recovery
For example, CompTIA Network+ exam domain 5.0 encompasses all things network troubleshooting, and domain 4.0, covers network security, which are a large part of the job for network support specialists. Exam objective 1.2 covers the characteristics of network topologies and network types like WAN and LAN.
Network support specialist salaries range from $38,990 to $106,420 with a median annual wage of $63,460 (U.S. Bureau of Labor Statistics).

4. Systems Administrator
Systems administrators keep a company's IT systems running. Their critical role ensures that employees can access what they need when they need it.
A systems administrator's responsibilities include:
Ensuring the company hardware and software are working as intended
Installing all the applications needed to support the organization
Updating systems when new software is released
Maintaining user accounts and access
Network implementations and network operations – which are most of a systems administrator's role – make up all of exam domains 2.0 and 3.0. These two domains equal 35% of the exam!
A systems administrator's salary can range from $52,370 to $132,520 depending on experience with a median annual wage of $83,510 (U.S. Bureau of Labor Statistics).
Organizations value IT professionals that can prove they have the foundational networking skills to troubleshoot, configure and manage networks. CompTIA Network+ validates the technical skills needed to securely establish, maintain and troubleshoot the essential networks that businesses rely on.
____________________________________________________________________________________
*Related to the Blog post above.
Current Technologies CLC also has the following CompTIA courses, click the link below.
Check out our CompTIA Courses.
If you have any questions let us know.
Current Technologies Computer Learning Center
6210 Central Avenue
Portage, Indiana 46368
Phone: 219-764-3800
Fax: 219-764-3805
Email: info@ctclc.com
---